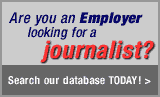 Journalist Details

| | |
| --- | --- |
| Kathy Kerr | REF#: JOUR12176 |
| Freelance Journalist | April 17, 2018 |




Location:



Edmonton, Alberta


Work Status:

Willing to Relocate:

No


Areas of Interest:

politics, commercial real estate, general interest


Contact:

turnerkerr@hotmail.com
Tel: 587-785-4532


http://



Bio:

Kathy Kerr's lengthy career has included writing and editing for daily newspapers and newsroom managment jobs including city editor, business editor and deputy editor at the Edmonton Journal. Now she has embarked on a freelance career and is interested in writing and editing assignments. She has completed work for the Globe and Mail, the Real Estate News Exchange, Davies and Mercury publications and the Edmonton Economic Development Corporation. Kathy also occasionally appears on the political panel for Alberta Primetime on CTV2.