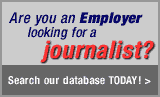 Journalist Details

| | |
| --- | --- |
| Amy Fallon | REF#: JOUR15311 |
| Freelance journalist and communications consultant | November 9, 2021 |




Location:



London (UK), International


Work Status:

FULL-TIME, PART-TIME, CONTRACT

Willing to Relocate:

Yes


Areas of Interest:

Human rights, Social justice, News


Contact:

amy@amyfallon.com
Tel: +44 7494188269
Mobile: +44 7494188269


http://www.amyfallon.com



Bio:

I am a widely-published and experienced Australian-Canadian freelance journalist with 15 years' experience around the world. I have dual Canadian citizenship. I'm currently based in the UK but am interested in hearing about journalism, communications and media roles in Canada, remotely and based there.

I have reported from five continents including Australia, the UK, Africa, Asia and Canada during my career for outlets including The Guardian, NPR, Quartz, CBC, OZY, Sydney Morning Herald, Age, Marie Claire Australia, Thomson Reuters Foundation, AFP, Australian Associated Press (AAP), Chatelaine, and many more. My portfolio is available at www.amyfallon.com

I also have experience working as a media and communications consultant for organisations including Transparency International, CIVICUS international civil society organisation, Aidsfonds and many more which can be seen here: https://www.amyfallon.com/media-and-communications-work/

I have recently finished a masters degree in human rights and have also completed the Indigenous Canada unit through the University of Alberta. Outlets in Canada that I've been published with include CBC, Chatelaine, The Post, ParentsCanada, and FLARE.