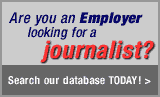 Journalist Details

| | |
| --- | --- |
| Heather Hudson | REF#: |
| freelance print journalist | August 28, 2017 |




Location:



Toronto, Ontario


Work Status:

Willing to Relocate:

No


Areas of Interest:

advertising/marketing, corporate communications, journalism


Contact:

heather@heatherhudson.ca
Mobile: (416) 846-3125


http://www.heatherhudson.ca



Bio:

As an accomplished freelance writer and journalist, Heather Hudson applies her signature plain language style to a diverse portfolio of writing. With her commitment to clarity and storytelling, she's known for breathing new life into topics others struggle to communicate.

Heather's thoughtful approach to every writing assignment ensures she captures a tone of voice that speaks precisely to the intended audience in an engaging way. She's a go-to resource for a number of publishing, corporate and agency clients who depend on her to deliver high-quality, on-brand content and journalism with a fresh perspective.

A freelancer for more than 14 years, Heather writes feature articles for consumer, trade and niche publications, online editorial content, digital marketing and all manner of employee and corporate communications. Among the many clients she's served are The Globe and Mail, RBC, Google Canada, Microsoft, Health Canada and FreshBooks.

To learn more about Heather's approach and to view samples of her work, please visit www.heatherhudson.ca.