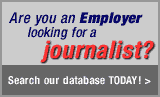 Reporter - General Assignment

| | |
| --- | --- |
| Reporter - General Assignment | REF#: JG31689 |

Village Media - Guelph


Location: Guelph, Ontario
Posted: December 22, 2021
Salary:



Description

GuelphToday is searching for a talented and experienced multi-media reporter to fill a full-time position covering breaking news and general assignments with our rapidly growing local news and information website serving the community of Guelph.




The ideal candidate will be enthusiastic, curious and a self-starter who knows that breaking news goes beyond fires and collisions. We want someone with excellent news judgment who can find the stories most important to our community on a daily basis, while also digging deep to uncover the news that no one else is reporting.




The successful candidate for this position:

Has demonstrated experience writing breaking news and features stories on a wide range of community issues, including crime and justice, education, business, sports and health;

Reports quickly, clearly and accurately and is comfortable working in a fast-paced environment with multiple priorities and deadlines;

Has a track record of success in cultivating sources, including with first responders, and fostering community contacts and relationships;

Isn't afraid to ask tough questions when required.

Are compelled to find stories that matter and to engage with our communities;

Are committed to fairness, accuracy and transparency, and have impeccable ethics;

Have exceptional writing and editing skills.

Qualifications

Degree or diploma in journalism, or related experience;

Superior language, writing and editing skills, with a thorough knowledge of CP Style;

Strong photography and video skills;

Able to work a flexible schedule, including nights and weekends;

A valid driver's licence and reliable vehicle;

Familiarity with the Guelph community will be considered a strong asset.

Willingness to relocate to the Guelph area, if required.





About Village Media

Village Media is an ever-expanding network of local news websites providing the news that matters most to the communities it serves. A champion of local news, Village Media publishes the latest local news alongside an extensive hub of community information on an innovative and scalable content management system (CMS) developed in-house. Born digital, this leading-edge company is a pioneer in its industry, continuously growing its reach and changing the landscape of online news.

Village Media is committed to advancing diversity, equity and inclusion among our staff, volunteers, programs and partners. We encourage applicants of diverse abilities, backgrounds and life experiences to apply. If you require accommodations during the selection process, please contact hr@villagemedia.ca.

To apply, please submit a cover letter (stating you found this job on Gaulin Media) and resume, along with relevant samples of your work. Applications for all current openings must be submitted through the Village Media Portal.