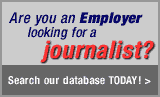 Journalist Details

| | |
| --- | --- |
| Jeff Cottrill | REF#: JOUR15303 |
| Journalist | June 11, 2021 |




Location:



Toronto, Ontario


Work Status:

Willing to Relocate:

No


Areas of Interest:

Arts and entertainment, News, Lifestyle


Contact:

jcottrill73@hotmail.com


http://



Bio:

Jeff Cottrill offers more than 20 years of professional experience as an editor and journalist. In 2015, he was nominated for a Kenneth R. Wilson Memorial Award for his OHS Canada article Off the Rails. Other writing credits include NOW, Toronto.com, Post City Magazines, EYE WEEKLY, YellowPages.ca, Exclaim!, JobPostings, Vu, and Digital Journal.

Jeff has a Master's Degree in English from the University of Toronto and a Creative Writing Certificate from Humber College. He is also a published poet and spoken-word artist, and he recently completed his first novel.