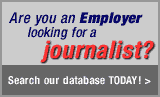 Journalist Details

| | |
| --- | --- |
| Miranda Monahan | REF#: JOUR15337 |
| Freelance writer and editor | October 22, 2022 |




Location:



Essex, Ontario


Work Status:

Willing to Relocate:

Yes


Areas of Interest:

History, Technology, Education


Contact:

monahanmiranda14@yahoo.com
Tel: (519) 551-8005
Mobile: (519) 551-8005


http://www.instagram.com/mirandammonahan/



Bio:

Miranda Monahan (they/she) was born and raised in Windsor-Essex County, Ontario. Monahan attended St. Clair College where they studied journalism. During her time at the college, Monahan worked as a content editor for their school's newspaper, The MediaPlex Examiner. Monahan has also earned a world art history certificate from the Smithsonian Institution.

Monahan has worked as a freelance writer and editor since 2018 and has written extensively about history, technology and travel. In 2019, Monahan earned a teaching English as a foreign language certificate from Global Language Training.