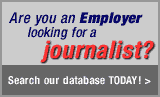 Journalist Details

| | |
| --- | --- |
| Samuel Dunsiger | REF#: JOUR15343 |
| freelance writer, storyteller and editor | January 22, 2023 |




Location:



Toronto/Remote, Ontario


Work Status:

Willing to Relocate:

No


Areas of Interest:

health and wellness, disability, pop culture


Contact:

sam.dunsiger@gmail.com
Tel: (416) 312-4958


http://www.linkedin.com/in/samueldunsiger/



Bio:

Samuel Dunsiger (he/him) is a Toronto-based freelance writer, editor and eductor. He identifies as a person with a disability; he uses his writing to normalize disability and he enjoys bringing stories to life. In addition to writing about his own lived experience of disability (often his own lived experiences), he also writes about pop culture (film and television), lifestyle, social justice, employment and education. He enjoys writing a blend of personal essays, op-eds, profiles and human interest pieces. He has written for publications in Canada and the U.S., including Our Culture magazine, Rewire, Arts Help, The Muse, Adweek, University Affairs, blogTO, CBC.ca and more.

Samuel has also taken comedy courses at Second City in Toronto. He's performed stand-up comedy on stages in Toronto, and has experience in writing comedy and satire for various humour-focused digital publications.

He's also done corporate communications work for various brands, including writing news releases, managing social media channels, and writing and editing reports, newsletters and other marketing content.

When he's not writing, Samuel can be found teaching others how to write. He teaches Content Creation - which covers journalism, marketing copy, blogging and social media content - for Blanche Macdonald Centre, a career college based in Vancouver.

Samuel has graduated from Toronto Metropolitan University (formerly Ryerson University) with a Bachelor of Journalism. He has also earned a Postgraduate College Certificate in Corporate Communications from Seneca College and a Masters of Education from the University of Toronto. He is open to part-time or freelance work.