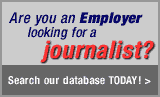 Journalist Details

| | |
| --- | --- |
| Patti Moran | REF#: JOUR15344 |
| production & layout artist | January 31, 2023 |




Location:



Ottawa, Ontario


Work Status:

Willing to Relocate:

No


Areas of Interest:

design, layout, ad building


Contact:

pattipages@pattimoran.ca
Tel: (613) 612-5373


http://www.coroflot.com/pattimoran



Bio:

Patti is an expert newspaper production artist with more than 30 years of experience in the community newspaper industry (the last 12 of which have been freelance). She is looking for weekly, bi-weekly, monthly or bi-monthly papers for which she can work from home, so location is not a hindrance.

Highly motivated to work, dedicated to making deadlines and with an excellent reputation for customer service, Patti would be a real asset to your newspaper's team.

Please have a look at her online portfolio at Coroflot - and she would pleased to send you her resume by email if requested.