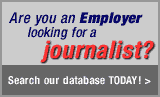 Journalist Details

| | |
| --- | --- |
| Danny Kucharsky | REF#: JOUR15345 |
| journalist, writer, editor | February 1, 2023 |




Location:



Montreal, Quebec


Work Status:

PART-TIME, CONTRACT, FREELANCE

Willing to Relocate:

No


Areas of Interest:

business, health/medical, general


Contact:

dannyk@videotron.ca
Tel: (514) 482-1999


http://www.dannykucharsky.com



Bio:

Danny Kucharsky is a multiple award-winning journalist based in Montreal, who has written for about 75 magazines and newspapers in Canada and the U.S. Some of his credits include The Globe and Mail, Montreal Gazette, Maclean's, Chicago Tribune, Profit and a wide variety of business, specialized trade and medical magazines. Danny was also the Montreal correspondent for Marketing Magazine for eight years. Danny has won three gold Kenneth R. Wilson awards from the Canadian Business Press for his feature writing and has been nominated for several other awards. He has a Masters in journalism from the University of Western Ontario. He specializes in business and medical writing He also does a wide variety of corporate communications work, everything from writing news releases, reports and brochures, to editing newsletters and creating online content.