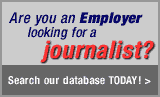 Journalist Details

| | |
| --- | --- |
| Michael (Mickey) Dumont | REF#: JOUR15348 |
| Content creation, editing, reporting, photography | March 17, 2023 |




Location:



southern Alberta, remote, Alberta


Work Status:

Willing to Relocate:

No


Areas of Interest:

Family, pets, Angling, outdoors, Photography


Contact:

mickeyadumont@gmail.com
Mobile: (204) 249-0725


http://



Bio:

A print journalist since 1986, I have experience in weekly community newspapers, two major Alberta dailies and monthly magazines.

My experience extends into community and civic affairs, energy, agriculture and just about every facet of rural and urban news and lifestyles.

Most notably I was a reporter/photographer for the Calgary Herald, Editor of Alberta Farm & Ranch magazine, then Alberta's most widely circulated agricultural publication and team member, including editor, on numerous community newspapers.

I have become a Swiss Army Knife of printed and electronic media.