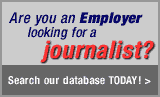 Journalist Details

| | |
| --- | --- |
| Dennis Furlan | REF#: JOUR15960 |
| digital journalist | July 20, 2023 |




Location:



Newmarket, Ontario


Work Status:

Willing to Relocate:

No


Areas of Interest:

, ,


Contact:

df@dennisfurlan.com
Tel: (905) 220-5824


http://www.dennisfurlan.com



Bio:

An experienced, talented and versatile journalist/editorial professional. Specializes in writing insightful and penetrating content that stands out from the crowd. Also possesses a wide range of editorial and journalistic skills ideal for todayís media challenges ó in both print and digital formats.

Journalistic experience includes serving as an editor for two national trade magazines, as well as working on assignment for various publications across North America covering a wide range of industries and topics. Skills include advanced writing, interviewing, researching, editing, proofreading, production, as well as photography. Portfolio includes countless items, including feature articles. Has travelled the world to cover stories and events of interest to readers. Other advanced skills include copywriting and instructional design.

Experienced in both print and digital media formats, including social media. Has utilized various CMS platforms, including WordPress, to manage online content. Digital skills include regular blogging for clients.

Possesses experience with press releases on both sides of the equation: as an editor sifting through countless submissions, and as a freelancer writing and distributing press releases successfully for clients.

Skills include an ability to adapt to a broad range of assignments and challenges that donít always include writing. Examples include webinar production and hosting, statistical presentations, design and layout, as well as anything you can throw into the mix.

Well versed in CP Stylebook, and is experienced in adapting to the editorial requirements of employers and clients.

Enjoys working with a broad range of interests in journalism, media and beyond.