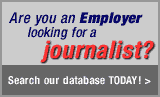 Journalist Details

| | |
| --- | --- |
| Naomi Lakritz | REF#: |
| editor & writer | March 4, 2017 |




Location:



Calgary, Alberta


Work Status:

Willing to Relocate:

No


Areas of Interest:

editing, writing,


Contact:

njlakritz@shaw.ca
Tel: (403) 208-3789
Mobile: (403) 771-4943


http://www.quantumorange.net



Bio:

Naomi Lakritz has spent a total of 37 years as a columnist, reporter, features writer and editor at the Winnipeg Sun and the Calgary Herald. Naomi has a BA in journalism from the University of Wisconsin and also spent several years as a staff writer for the supermarket tabloid, the National Examiner. Naomi Lakritz Editing Services offers editing of articles, book-length manuscripts, academic papers, website contents and a variety of other documents.