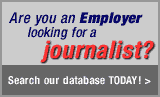 Journalist Details

| | |
| --- | --- |
| Marika Washchyshyn | REF#: |
| Senior Multimedia Producer & Journalist | March 26, 2017 |




Location:



Toronto, Ontario


Work Status:

Willing to Relocate:

No


Areas of Interest:

Sports, News, Lifestyle


Contact:

m.washchyshyn@gmail.com
Tel: 9172422736
Mobile: 9172422736
Fax: 9172422736


http://https://vimeo.com/198367270



Bio:

Marika is currently the Senior Multimedia Producer at GOLF.com at Sports Illustrated in New York City. She is a graduate of the Columbia Journalism School in New York City and the Carleton University School of Journalism and Communication. At Columbia, she focused on breaking news, sports and narrative writing. She is trained in print, video storytelling, broadcast television, photography and online content creation and aggregation.

Marika considers herself a 'dual-fanatic'​ in both sports and storytelling, and like most twenty-something females, she is a social media and networking enthusiast, and loves keeping up with the latest online trends. While New York has been a solid home for four years, she's eager to return to the Great White North to continue her career in journalism.