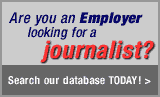 Journalist Details

| | |
| --- | --- |
| Anastasiya Jogal | REF#: JOUR9075 |
| Multimedia Journalist | April 6, 2017 |




Location:



Toronto, Ontario


Work Status:

FULL-TIME, PART-TIME, CONTRACT, FREELANCE

Willing to Relocate:

Yes


Areas of Interest:

Law / Finance / Investigative, Politics / International Relations, Lifestyle / Health / Fashion


Contact:

aj@newsaj.com
Tel: (416) 829-6603


http://www.newsaj.com



Bio:

I am an analytical, solution oriented, born investigator, with a knack for design.

Passion for news, law, politics, finance, human rights, innovation, and the art of presenting information in a concise, clear, and attractive package is what drives me forward in the journalism industry.

I also enjoy lifestyle beats including health, fashion, and travel.

My strengths lie in multi-platform journalism. I have the writing (CP style) editorial and technical (FCP, APS) skills to produce(Sony HD), film, and edit videos(FCP) to the highest standard built on accuracy and impartiality.

I dabble in photography(Nikon Df), and love Social Media.

I am very organized and have the soft skills to lead a team, as well as to work in a supportive role.

Specialities:

Technical skills such as Video Production, Final Cut Pro, linear and non-linear editing, Adobe Illustrator, Photoshop, HTML, proficient in PC and Mac, Microsoft Office, PowerPoint, Excel, etc..

Reporting skills include reporting live to camera, writing copy/editing (for TV, newspaper, online publication), generating story ideas, chasing, videography, and research.

Multimedia skills include in-depth understanding of the usage of platforms such as Twitter, YouTube, FB, Instagram, and Periscope.

Fluent in Russian, Ukrainian, and have intermediate Spanish language skills, beginner French.

Lastly, an eye for design and impeccable attention to detail.