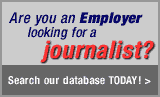 Journalist Details

| | |
| --- | --- |
| Christine Wong | REF#: JOUR9095 |
| reporter/blogger | June 9, 2017 |




Location:



Toronto, Ontario


Work Status:

Willing to Relocate:

No


Areas of Interest:

technology, business, culture


Contact:

thatchriswong@gmail.com
Tel: 647-229-5608
Mobile: 647-229-5608


http://www.cwongproductions.com



Bio:

Christine specializes in telling the unfolding story of how businesses can use technology – and how technology is changing business.

She is a freelance reporter for IT Business Canada, weekly blogger for Zayo Group's expertIP site and tech columnist for corporate travel magazine Ignite and its sister publication Adrenalin, which focuses on sports marketing. She is a former staff reporter for Ottawa Business Journal and The Ottawa Sun.

During her time in TV, Christine was a reporter for CTV Ottawa's weekly news magazine series High Tech TV. She also held associate producer positions at Business News Network, CBC's nightly culture and current affairs show The Hour with George Stroumboulopoulos and two daily talk shows on Slice TV.

Her corporate writing clients have included Bell Canada, Microsoft Canada, Telus and Yellow Pages Group.

She has been kissed by Richard Simmons, dissed by Six Feet Under's Peter Krause and shared a memorable cab ride with The Amazing Kreskin, all in the pursuit of a good story.